When you're looking for a fuel-efficient and speedy ride that can get you anywhere you want to go, don't hesitate to visit the team at Herb Chambers Scooters: Vespa, Piaggio & Genuine Scooters Company. Our Vespa and Piaggio dealership in Boston can help you browse different electric scooters and mopeds, as well as answer any questions you may have. Vespa means wasp in Italian, and when you discover how effortlessly these scooters cruise around busy city streets in Boston and the surrounding neighborhoods, you'll discover why the name is very appropriate. Review our electric scooters for sale and upgrade to a moped that's well suited for you!
Buy a New Electric Scooter in Boston, MA
Shop new electric scooters for sale and let us know which one you'd like to claim for yourself. We have new Vespa Elettrica models, as well as the new Vespa GTS 300. We also have Genuine Buddy 50 Moped and Piaggio LIBERTY 50 models, in addition to new Vespa Primavera and used Sprint options, giving you plenty to choose from. Call to speak with a sales expert about Vespa GTS and GTS Super scooters and we'll review our new and used scooters for sale, as well as go over any Piaggio financing offers you may be able to take advantage of!
Vespa & Piaggio Service near Me
The team at our Herb Chambers Company wants to keep your scooter on the road for as long as possible. That's why our Piaggio and Vespa service center has a team of expert service technicians who can take care of any repairs you require. Schedule maintenance with us for a tune-up or let us know if you need a scooter tire replacement or other service. We'll get your electric scooter fixed up in no time! Want to tackle DIY moped repairs? Ask about our genuine scooter parts that you can order and pick up from our dealership.
Directions to Herb Chambers Scooters: Vespa, Piaggio & Genuine Scooters Company
Herb Chambers Scooters: Vespa, Piaggio & Genuine Scooters Company is located at 22 Brighton Avenue in Boston. This is easy to get to for our friends coming from Cambridge, Newton, Waltham and beyond. Schedule a test-ride and upgrade to a new electric scooter today!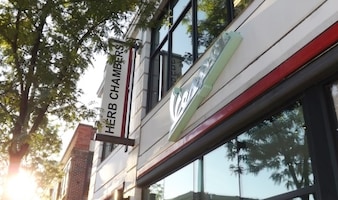 Herb Chambers Scooters: Vespa, Piaggio & Genuine
Local Scooter Dealership Selling New Scooters and Used Mopeds
Serving: Boston, MA
Local Phone: (866) 724-5395
Directions to Herb Chambers Scooters: Vespa, Piaggio & Genuine
22 Brighton Ave, Boston, MA 02134